FINISHING DEVICES - Automated digital finishing systems for signs and displays
Kongsberg XL 44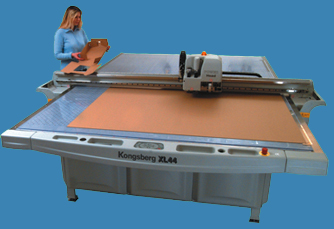 The digital cutting (and also routing) machine users, with the help of a complex and complete cutting toolbar, have the opportunity to be executed a qualitative shaping on the entire range of substrates, started from the easy and thin cardboard, through the heaviest triple-wave corrugated board, entirely to the plastic or tree.
The digital cutting machine can be used excellently in the field of short -and middle run production of the pre-printed sheets. The accurate cutting (shape-cutting, outline-cutting, creasing) it possible due to the laser pointer in toolhead, which ensures fast and accurate registration and a perfect cutting outline.
Kongsberg XL flatbed cutting plotters benefits, substrates shaping procedures:
the main benefit is the significant productivity gains due to high-powered servo system and Twin-Drive beam
the wide range of applicable substrates
the highest efficiency due to the excelent cutting speed – max. 50cm/minute
shape-cutting in film, compact cardboard, corrugated board, foam board, leather
outline-shaping in foam blocks (sponge) – 90 mm height
surface cutting in film
routing in plastic, metal, wood
creasing with high presure and rotating creasing wheel in corrugated board, compact board
start position marked with laser pointer
Units in use: 1 piece
Teckwin TeckRouter M-2030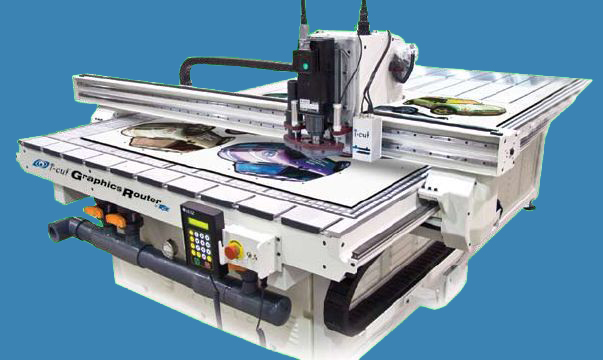 Digital router for graphic applications with an extended operation list (cutting, drilling, engraving, plotting) for rigid media (forex, komatex, dibond, plexyglass, acrylic, polycarbonat, AL, MDF, wood, etc).
Features:
Dimensions: 2,57m x3,65m
Max media dimensions: 2m x3,048m
I-Cut by MGE cutting software with automatic positioning and cut compensation of print distortions: rotated, skewed, slanted, curved or other linear or non linear print distortion
Wide connectivity with most cutting software: AXYZ PANELBuilder, ToolPath, EnRoute, ArtCam, Type 3, Mastercam, ProfileLab – for media not printed
Max work height: 50 mm
Spindle power: 1 KW
8.5 HP vacuum with 4 individual controllable zones
Units in use: 1 piece